Printer Friendly Version
TIFFANY LOT: 55 Meter Hurdles World Record Holder
"Awesome athlete! She is the type of athlete that every coach dreams of having. I've been coaching for 33 years now, and Tiffany is definitely one of the top 3 athletes I've ever coached. She is an
By Reed Sainsbury
Published: Spring 1999
---
Tiffany Lott was born in Tucson, Arizona in 1975. She watched her older brothers participate in track and developed an interest in it herself. When she was in the 5th grade, her family moved to American Fork, Utah, where Tiffany began competing in track when she was in the 6th grade.
In high school Tiffany experienced much success. While living in American Fork she won the State Championship in hurdles and participated on four relay teams that won State. Later her family moved to St. George, where she attended a smaller school in Southern Utah. At first she was very reluctant to move, but later, she learned to love her new school. Her success continued to follow her and by the end of her high school career she had claimed eight individual state championship titles! Utilizing her outstanding athletic ability, Tiffany helped her St. George track team win two State Championship titles. Most people would have been totally content and happy with an accomplishment like that, but not Tiffany. She also played basketball and was a key player in helping her team win the State Championship. It seems that whatever Tiffany does or wherever she goes, the team she is on, will have success and WIN!
After high school, Tiffany attended BYU on a Track Scholarship. As a freshman she really excelled and did a lot better than she thought she was going to do. In the WAC Conference she placed 1st in the heptathlon. This qualified her to compete in Nationals where she placed 6th as a freshman! With a big smile on her face Tiffany said, "from there, things only got better!"
The heptathlon includes seven individual events: 100 meter hurdles, high jump, shot put, 200 meters, long jump, javelin and the 800 meter.
Each year Tiffany kept breaking her old records in all events. As a junior at BYU she made it to the Olympic Trials. However, tragedy struck her in 1996 when she tore her ACL playing basketball.

MOTIVATION AND DESIRE

Something Tiffany always struggled with was lack of motivation to train and work hard. It wasn't easy for her to overcome this obstacle. After tearing her ACL, Tiffany was forced to miss the Olympics. During this time, she watched her friends and teammates train. She watched them become bigger, faster and stronger as they prepared for the Olympics. While watching from the sidelines, a fire within her was sparked and soon that spark became a raging bonfire. She would be unstoppable. Her desire to compete and prove what she was capable of doing had increased tremendously. Sitting and waiting for her body to heal for several months became her motivation to train and work harder. As she recovered from surgery, she began training like a machine. "I was a lot hungrier for the sport after that," said Tiffany.
On February 20th 1997, eleven months after surgery, at the Air Force Academy in Colorado, Tiffany crushed Jackie Joyner-Kersee's American record of 7.37 seconds. She also broke the Jamaican, Michelle Freeman's world record time of 7.34 seconds. Tiffany set a new world record in the 55 meter hurdles when she amazingly ran it in 7.30 seconds! To prove that this record was no fluke, Tiffany ran it again two days later, in 7.31 seconds.
In 1995 Tiffany was the proud winner of the Multiple Sclerosis Female Collegiate Athlete of the Year award. In 1997, Tiffany won the Track and Field News' Female Collegiate Athlete of the Year. Adding to her success in 1998, she became the first female athlete from BYU to ever win the Dale Rex Memorial Award.
Tiffany trains about six hours a day. A lot of her training consists of technical work, correct rhythm for the hurdles. She also includes explosive weight training exercises. Three to four days a week in the off season are spent working out with weights. Two to three days are spent on weight training in-season. A typical workout for Tiffany is shown above to the left.
Her favorite weightlifting exercise is the Power Snatch and second are Power Cleans. This helps explain why she holds a world record. She performs flexibility stretches each day for a minimum of 15 minutes.
I asked Tiffany what her views on steroids were and she responded by saying, "Cheating. Growing up as a member of the Church of Jesus Christ of Latter-Day Saints (Mormons), I've always been taught to be honest in every thing I do. In the end it pays for you."
Tiffany believes there is no room in an athlete's career for smoking, alcohol or drugs. In fact Tiffany stated, "I have never taken any alcohol." She suffers from asthma and says she needs her body to be in tip top condition. Smoking and other harmful substances would only weaken her and make it harder to breathe. "When I'm competing, I need all the air I can get, how stupid it would be to smoke."
Tiffany is a great all-around person. When I asked her what the reason for her success was, she responded by saying, "God is the reason for my success. He gave me a good family that taught me strong morals and to keep my body healthy; keep the engine running clean. I like to use my running ability to help bring others closer to Him."
While talking about goals with Tiffany she said, "I'm always resetting my goals. I was taught when I was young to always set goals for myself. It gives me something to strive for, and once you've achieved that goal to reset it and not just be satisfied with that. Always look to be better. I want to get better and make it to the Olympics in 2000." She wants to improve her score in the heptathlon to somewhere between 6500-6600 points. Her best so far is 6211 points. She and her coach, Craig Poole, both felt she was capable of doing it this past year had she not pulled her hamstring.
Tiffany graduated from BYU with a 3.1 GPA and received her degree in Recreation Management, in August 1998. Tiffany is now working on becoming a professional track athlete but finds it difficult because she currently does not have a sponsor. Unlike most other sports, where the athlete just signs a contract, track and field athletes must find sponsors to support them. In the meantime, she works in construction for her brother's business.
We would like to thank Tiffany for her hard work and good example. Continue to work hard and we wish you the best of luck. Go get it!
---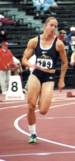 Tiffany in the heptathlon at the NCAA Championships in Bloomington, IN

Tiffany (with her nieces) graduated from BYU a degree in Recreation Management.


Tiffany, with coaches Legas, Poole, & Shane. She became the first female athlete from BYU to ever win the Dale Rex Memorial Award.

Tiffany doing the Snatch


Tiffany Squatting


In 1997, Tiffany won the Track and Field News' Female Collegiate Athlete of The Year.


"I want to get better and make it to the Olympics in 2000"

Tiffany with article writer Reed Sainsbury at the BYU facility in Provo, Utah.