Printer Friendly Version
DEVINE POWER
Kevin Devine is the NFL'S Fastest Football Player. Along with his blazing speed is a superman level of strength.
By Greg Shepard
Published: Summer 1998
---
Paul Devine, Kevin's father, was at BYU when I was their strength coach from 1971 to 1973. Paul was a powerful running back. He was impressive. I had him appear in the original Bigger Faster Stronger movie which I produced in 1972. Paul demonstrated the Dead Lift and was shown posing in the national collegiate bodybuilding contest. He also lifted in the 181-pound class on my 1973 National Championship Power lifting team. Paul was a great friend then, and so what a pleasure it was to renew that friendship again by now featuring his outstanding son in the BFS Journal.

Kevin began his athletic career in grade school by playing football, track and basketball. He was a 3-sport athlete until his sophomore year at Nogales High School in California. "When I saw I wasn't getting any taller," laughed Kevin, "I left basketball and stuck to football and track."

Kevin was the CIF Champion in the 100 meters in both his junior and senior year. He streaked to 10.35 seconds in 100 meters and a 21.02 in the 200 meter sprint. However, in the state finals, Kevin was disqualified both years. "I have not gotten over that yet," he remarked.

Why would a pro football player still care about what happened in high school? I believe it is called pride and hunger. Kevin will be a star. I believe his intense hunger to succeed will drive him to be a future NFL force. "I will raise up," said Kevin with determination.

Kevin's first love has always been football. At Nogales High School, he played corner back and tailback. Kevin earned All-America honors by Super Prep magazine which rated him the No. 16 secondary prospect in the country and the No. 17 prospect overall in the West by the same publication. Kevin rushed for 1450 yards in his senior yard gaining a whopping 9.8 yards per carry. He earned first team all-state honors by Student Sports and first team all-league honors in his sophomore, junior and senior years.

Kevin was taught by his parents at an early age that education is important. His father, Paul, has taught and coached at the high school level for many years. "Your athletic ability lasts only so long," said Kevin, "but your mind lasts forever." With that mind set, he maintained a 3.5 GPA at Nogales. Kevin's future goals after his pro career are to be a teacher and coach.

Kevin took recruiting trips to Washington, USC, Kansas and BYU but ultimately chose Cal. In a 1993 newspaper interview, he stated, "Cal has everything I need. They have good coaches and good people. I think I can play pretty quick. There are not too many corner backs on the depth chart." Kevin was 5-foot-11 but only 160 pounds at the time.

Kevin became an impact player immediately at Cal. He emerged as a starter during his first year as a true freshman. The next three years were good but fame eluded Kevin. He was a steady performer in his starting role at Cal but did not appear in any postseason all-star games. This is usually vital for a potential draftee's exposure. Kevin thought he was as capable as anybody. His coaches at Cal did not recommend him for the all-star games. Maybe it was height. Kevin is really only 5-10 plus. "You cover guys that are 6-3 and 6-4 with heart, smarts and speed,." said Kevin answering the critics.


"A whole lot of pain, sweat and suffering happened at Cal during my senior year, " remembered Kevin. "I didn't have as good as senior year as I wanted. I just felt I had to make up for it at the NFL combine. I worked extremely hard to prepare. I am a strong believer in lifting weights for strength and especially speed. Speed is 90% power. You get a lot of power from weights if you do it correctly. I think that's what really separates me from a lot of guys." Besides the core lifts, Kevin does a variety of lunges, leg presses, calf raises, leg extensions, leg curls and the Glute Ham Raise. This issue will feature Kevin's core lifts. In our next issue, we will illustrate his auxiliary lifts.

Anyway, Kevin headed to the NFL scouting combine with everything on the line. Since most of the pro scouts and coaches had never seen him play like many of the other potential draftees, Kevin was eager to show teams what he could do.

Hundreds of players participate in the combine. All of the teams are present, each with nearly twenty representatives. There are owners, doctors, coaches, scouts, trainers and administrative personnel. Kevin just shook his head, "They are thorough, very thorough. It is probably the most complete physical one could go through.

"They had 15 stations and each station had five substations. At each of those substations, they check everything from your knees to elbows to your neck to your hamstrings. You are more sore from the Combine than the actual training camp."

Sure, Kevin was disappointed at not making a postseason game. He had always been an extremely confident athlete. Well, you have two choices when you get knocked down a peg or two: lie down or raise up. Kevin didn't just complain and talk. He went to work. "Raise Up" became his motto - his mission.

Kevin just blew them away at the Combine. Absolutely blew them away. He soared to 36.5 on his vertical jump and leaped 10-6 on the standing long jump. Kevin gauged that anything over ten feet is considered a great jump. However, the Bench Press is where Kevin popped a few eyeballs.

The NFL Combine tests the Bench Press by having the players do 225 pounds for a max out on reps. Even though Kevin only weighs 185 pounds, he has recorded a 405 one-rep max on the bench. He was primed and ready. Kevin did more reps than most linemen when he did an amazing 26 reps with 225 pounds.

"Luckily, I was blessed with speed and strength. Also, someone was still willing to give me a chance," recalled Kevin. "When a cat's trapped in a corner, it's going to scratch and claw to force its way out or die trying." That was Kevin's feeling when he stepped up to the starting line of the race of his life. There were about 100 watches on him. If ever there was a time to raise up, this was it.

Several watches clocked Kevin at 4.1 in his forty yard time. The average was between 4.23 and 4.24. It was the fastest time of anyone. I hope you get Kevin's new video called "Football Speed." It shows amazing footage of Kevin in seemingly impossible saves during a football game. Until someone proves different, Kevin Devine is the NFL's fastest player. We at BFS are believers.

After Kevin's sensational combine performance, his hopes were high. "I knew I wouldn't be a first round pick, but I thought maybe a late second, or an early third," remembered Kevin. "As I watched the draft through the first three rounds, it kind of shocked me. I told everyone not to call me just to make sure my phone was free. But it was just silence. Just silence."

Jacksonville and Baltimore called later with free-agent contract offers. Kevin opted for the Jaguars but pondered the long odds for an undrafted free agent to make the team.

Kevin said, "I felt strong and healthy for the first time in two or three years. I knew I had the talent and ability, it was just a matter of showing it." Talk about confidence.

Kevin intercepted three passes early in training camp scrimmages, then made his mark in an exhibition game against Carolina when he caught the Panthers' Tyrone Poole on the 4-yard line after a long punt return. When the dust had settled, he had beaten out four veteran defensive backs for a roster spot including one starter. "A ton of bricks fell off my back," Kevin had sighed. "I could finally breathe again."

Kevin was standout special teams player last season as a rookie. He also saw time as a reserve defensive back gaining more and more valuable experience as the season progressed. We feel Kevin Devine will only continue to get
---

Kevin Devine is the NFL's fastest player.


As Kevin started his college career he was 5'11" and weighed only 160 pounds. Today he weighs 185 pounds, and is the NFL's fastest man with a forty time of 4.1.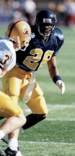 Kevin, who earned a starting position as a true freshman, played defensive back at the University of California.

Kevin's father Paul Devine spots him on the Bench. Kevin, at only 185 pounds has a Bench max of 405 pounds!


Great style on the Parallel Squat. Eyes straight ahead, chest is spread, sitting tall, lower back locked-in, hips back. Kevin's father Paul is spotting.

Perfect! Hips down, lower back locked-in, chin is up, with the eyes straight ahead. His elbows are locked. The bar is to the shins, the wrists are rolled over with the knuckles to the floor.


"Several watches clocked Kevin at 4.1 in his forty yard time. The average was between 4.23 and 4.24. It was the fastest time of anyone."


Kevin Devine, Coach Greg Shepard, Paul Devine.