Printer Friendly Version
JAY HUMPHREY: Outland Trophy Candidate
Jay Humphrey is into his third year as a starter for the Longhorns of the University of Texas. At first glance, it would seem football for Jay just came easy but such is not the case.
By Greg Shepard
Published: Winter 1998
---
Jay Humphrey is into his third year as a starter for the Longhorns of the University of Texas. He is an Outland Trophy candidate and made some pre-season All-America teams. Jay is a big player, very big. He is 6-7 307 pounds and plays offensive tackle. At first glance, it would seem football for Jay just came easy but such is not the case.
Jay was blessed with athletic ability as he also started on the basketball team but he did not lift seriously at Richardson High School in Texas until his senior year. However, when he got to the University of Texas he still could only bench 250 pounds and did not really know how to Power Clean or Parallel Squat.
Being self conscious about being physically weak, Jay said, "I felt bad during my redshirt freshman year. I was looking for an easy way out like drugs. My father and I talked. It was then I decided to live in the weight room and do it right. I've been really blessed to have two great strength coaches here at Texas."
Jay made some great gains. He started out at 6-6 255 pounds. Now he can Bench 435, Squat 560, Power Clean 330 and run a 5.1 forty. Jay has also worked hard on stretching. He is so flexible that he can do the splits. Jay's vertical jump is 28-inches and he has his body-fat down to 14 percent.
Jay chose Texas to stay close to home and admits he got tired of the recruiting process. "I just fell in love with Austin," Jay beamed. "It is plain and simple, every player comes to a school like Texas because if you can win a conference title at a place like UT, you're going to be in the hunt for the national championship."
Texas won National Championships in 1963, 1969 and 1970. Mack Brown, UT's new football coach, states, "Our goal will always be to win a National Championship. At Texas we have proven that we can accomplish that. With the tradition and reputation UT has earned, we can always put ourselves in position to compete for the national title."
Texas Football Today wrote, "You have not been chilled to the core until you have stood in Royal-Memorial Stadium before a game and heard 80,000 voices sing "The Eyes of Texas." At games end, win or lose, they sing it again. If hearing this doesn't nearly put you in an emotional heap, you are heart dead."
Texas has produced two NFL Hall of Famers, 9 to the College Football Hall of Fame, 23 who have played in the NFL Pro-Bowl and 62 All-Americans including Heisman Trophy winner, Earl Campbell.
In its 116 years, The University of Texas has grown to 120 buildings which encompass 10.5 million square feet of space on 357-acres which is home to nearly 50,000 students.
Optimism was high at the beginning of the season. Mack Brown took Texas by storm and people responded with resounding enthusiasm. One senior offensive tackle exclaimed, "Coach Brown has instilled a new kind of attitude in this team. It's not just being aggressive, it's about initiating a 'whole team' philosophy. We've had a lot of 'one-ness' on this team in the past, but now we're picking each other off the ground, giving each other high fives - something I've never seen before in the five years that I've been here."
Academically, the Longhorns have excelled. Over the last six years, 106 of 128 student-athletes completing their eligibility at Texas have graduated. That is an 82.8% graduation rate. Jay Humphrey received a Utah Athletic Director's Award for posting a 3.0 GPA and has made the Honor Roll several times.
"My mom was kind of a teacher," said Jay. "She has had a great influence on me. I never missed class in high school and I don't miss here. I don't miss workouts. Besides, you can't miss. If you do, you go to the dog house and Mad Dog takes care of you.
"Texas has a great strength program. Mad Dog brings a lot of enthusiasm and intensity. As much as I hate to run, sometimes he makes it fun.
"I hope to play pro-football like my father. Maybe I will be able to follow in my dad's footsteps. I want to stay outdoors and manage a ranch so I can hunt and fish." Jay has two dogs that he takes with him on hunting trips. One is a ripped 155-pound Bull Mastiff called "Bogey" and the other is a Lab named "Bailey."
Jay will be married soon to Kelli Kuehne. "My fiancé is a professional golfer on the LPGA tour. She can beat me. I tied her once but I feel that I have potential. I'd like to be the first pro football player and pro golfer." If he does that, maybe he could rename his Bull Mastiff and call him "Eagle."
Jay believes that hard work and dedication are key elements of being successful. He added, "You have to have desire and want within yourself to accomplish your goal. You gotta want it and like it to make it work.
"You must work your fanny off if you want to be successful and apply yourself. What your mind can conceive or believe you can achieve."
Drugs and alcohol are not part of Jay's success formula. "I have been drug and alcohol free my whole life. I don't like it. You don't have to drink to have fun. I can get just as crazy as anyone but I don't need alcohol or drugs.
"Peer pressure is mental. It doesn't matter what any body says to me. I'm not going to do anything I don't want to do. I'm not going to jeopardize my career and chances by doing something stupid."
Jay believes he must keep his faith in God and that true success and happiness revolves around being stable and most of all your family. We thank Jay and Coach Madden for being great role models. They are Upper Limit people.

JEFF "MAD DOG" MADDEN
TEXAS
STRENGTH & CONDITIONING

Jeff "Mad Dog" Madden is a huge man. A strong yet gentle man. He is a man of may dimensions. Coach Madden is one of the premier strength and conditioning coaches who was asked by Coach Brown to follow him from North Carolina to the University of Texas.
The Longhorns embraced Coach Madden and his style. "I love the man," remarked one UT football player, "but I'm kind of scared of him too." That is a perfect coach-player relationship. This player continued his comments," Mad Dog is a motivator. I can't wait to see what he does for our first game. The team gets up for games but Mad Dog takes us to another level."
Coach Madden explained his goal for the Longhorns, "At the University of Texas, the emphasis of our strength and conditioning program is speed and explosive power. We help each athlete train the total body through explosive movements to reach an optimal athletic performance."
Although Coach Madden is only 35 years of age, he has already helped prepare more than 100 players that are currently on NFL rosters. Chris Smith, a junior defensive end said, "Mad Dog's workouts are unbelievable. Its way more than just weight lifting. He pushes every muscle in your body to help you reach peak performance. Then its your chance to unleash that speed and power on the football field."
Coach Madden has six full time assistants and three to four graduate assistants. Lance Hooton, Donnie Maib, Ed Nordenschild, David Plettl, Ken Sheppard and Angel Spassor are the full time assistants. Coach Madden was named National Strength and Conditioning Specialist of the year in 1996 by the International Sports Sciences Association (ISSA). He has been a strength coach at Rice (1984-88), Colorado (1989-92), North Carolina (1993-97) and now Texas in 1998.
Coach Madden serves as a member of the Board of Directors of Peak Performance USA, ISSA and is on the Editorial Advisory Board of Sports Speed Magazine. He graduated from Vanderbilt in 1993 earning a degree in sociology and played a year of pro football in the USFL. Not only do you not want to mess with Texas, you do not want to mess with Mad Dog who has bench pressed 602 pounds. Finally, Coach Madden has participated in 10 bowl games; one as a player and nine as a coach.
One of Coach Madden's most important initial responsibilities was to oversee the constructio
---
Jay Humphrey is a 6-7, 307 pound offensive tackle for the Longhorns.



The 1998 Longhorn Seniors.


Head Longhorn Coach Mack Brown and Coach Shepard.


Jay Humphrey doing the Glute Ham Developer, a great auxiliary exercise. The Glute Ham Developer is the only unit that works both the Glutes and the hamstring at the same time.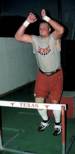 During the off-season Jay does plyometrics. Here Jay is doing hurdle jumps.


Jay getting ready for another set. He Power Cleans 330 pounds.


Dumbbell work is a great football auxiliary lift.


Jay has been almost perfect at deep snapping for four years.


Coach Madden and Coach Shepard. Arms are about equal don't you think?