Printer Friendly Version
SO FAVRE SO GOOD
Thiry-two picks, including two QB's (Dan Mcgwire andand Todd Marinovich) go by before Brett is picked by Atlanta who then traded him to Green Bay in 1992. And the rest, shall we say, is history.
By Dr. Greg Shepard
Published: Winter 1997
---
It seems so clear now. When you look closely at Brett Favre's high school and college career, you wouldn't be surprised at his amazing record as the now premier quarterback in the NFL. A lot of smart people are kicking their rear ends because they could have had Brett instead of Green Bay.
Brett's father was his high school coach at Hancock North Central High School in Kiln, Mississippi. Brett earned five letters in baseball where he led his team in batting all five seasons. He played quarterback and strong safety. Brett's dad also had him punt and placekick. After playing in the Mississippi High School all-star game, Brett headed for Southern Mississippi.
Brett set many school records including passing yards (8,193), passing attempts (1,234), completions (656) and passing percentage (53.0). More importantly, he led Southern Mississippi to 29 victories, including two bowl wins during four varsity seasons. Brett culminated his college career by earning the MVP award at the East-West Shrine game.
The real tip off to Brett's character came just before his senior year on July 14, 1990. He suffered severe internal injuries in an automobile accident. Thirty inches of his intestines were surgically removed 24 days later on August 7th. One month later (Sept. 8), Brett shocked his teammates and coaches by returning to the starting line up. This wasn't just any game. It was against heavily favored Alabama. Brett led his Golden Eagles to victory.
So, what happens? Thirty-two picks, including two quarterbacks (Dan McGwire and Todd Marinovich) go by before Brett is picked in the 2nd round by Atlanta. Then, the Falcons traded him to Green Bay the following year in 1992. And the rest, shall we say, is history.
Sherm Lewis, the Packers' offensive coordinator, shakes his head, "What can you say? He's the two-time MVP and I'm sure he'll make a strong run at it again this year. The remarkable thing is that he has stayed healthy and hasn't missed a game in four years. Brett is a great leader, a great competitor and he loves to play in the big games. Cold weather doesn't seem to bother him. The players really love him and rally around him. And I think he's just going to get better and better. He's the guy — we go as far as he goes."
A Green Bay wide receiver said, "Brett's a tough guy — one of, if not the toughest guys I've ever seen play the game. He does things that other quarterbacks would never dream of doing. He's a man."
"Brett's got a heart as big as all outdoors," said Packer's head coach Mike Holmgren, "and he's a very courageous guy. Brett has the perfect mentality to play quarterback."
Brett was selected as the NFL's MVP in each of the last two seasons, only the second time in its 40-year history that the Associated Press honor has gone to the same player on a back-to-back basis. He has thrown 110 touchdown passes in the past three years which is unmatched by his peers. Last season Brett threw for 3,899 yards becoming only the sixth passer in NFL history to throw for 3,000 yards in five consecutive seasons.
Perhaps Brett's most amazing statistics are the 80 plus consecutive games that he has been a starter. Ninety plus if you count playoff games. This is the longest current streak of any active quarterback. The second amazing statistic is his 19-0 mark in 35 degrees or below. Brett is the "cold weather quarterback." These stats along with leading the Packers to last season's Super Bowl Victory propelled him to four straight Pro Bowl appearances, the last two as a starter.
Brett did not lift weights in college. "I was so foolish not to have lifted in college" Brett stated. "I really screwed up. I lifted in high school but stupidly I quit when in college. Now, with Green Bay, lifting and conditioning has become a part of my life. I workout 5-6 times a week.
"I feel you get great health and mental benefits from working out. Plus, the injury prevention factor. I can't run very fast and I'm not that big so my extra strength that I've built up gives me the ability to break a tackle once in awhile, scramble and, if I need to, throw off balance.
"I credit my strength coaches for motivating and instructing me ."
Brett majored in special education at Southern Mississippi. He has not lost his interest in this area as a pro. He is and has been active in numerous projects to raise money for the Special Olympics, Cystic Fibrosis and the Boys and Girls Club. Brett is a husband, father and an Upper Limit example. We wish him well and
continued success.
---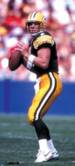 1996-1997 NFL MVP Brett Favre

"Lifting and conditioning has become a part of my life at Green Bay. I workout five to six times a week."

Pull Through: Strenght Coach Kent Johnston assisting Brett on the great and simple leg and hip excercise.


Brett with BFS President, Dr. Greg Shepard in the Packer weightroom.

Brett Favre doing pushups with a 45 lb plate on his back and his feet raised on a 9" stool. His record is 58 in a row.


Brett's 1997 Stats (After 7 Games) 240 Attempts, 138 Completions, 57.5 Percent, 1,687 Yards, 15 Touchdowns, 8 Interceptions