Printer Friendly Version
THE SKY'S THE LIMIT With FEMALE POLE VAULTERS
With America's Olympic Gold in the women's pole vault, the nation is revving up for this new crowd-pleaser.
By Laura Dayton
Published: Winter 2000
---
Once again Americans huddled around their televisions to watch the summer Olympics. However, things were different this year. The women emerged as stars in sports other than gymnastics and track. Overall, the women were the media grabbers, and don't think for a minute that millions of young women and coaches didn't take notice. Women's sports have come of age.
"It's taken a long while," says Sharon Zavala, who has been coaching for 26 years and is currently the Volleyball coach at Central Catholic High School in Nebraska. "I had to get educated also. When I was in school there was not much opportunity for women. Weight training, which can improve an athlete's performance so profoundly, was un-ladylike.
"Even here, the girls at first were very tentative and resisted the weight training. They didn't really see the benefits until the older classmates began programs and their skills improved. With each passing year a few more girls joined in, and now we have girls in the 7th and 8th grades wanting to start on an aggressive strength conditioning program."
Doors are opening in every sporting endeavor for women. One that opened very wide in this past summer's games was women's pole vaulting.

Raising the Bar

Getting the women's pole vault event into this summer's Olympics was a feat unto itself, but it was still left to the competitors to prove it worthy of Olympic recognition. California's Stacy Dragila, pitted against Australia's own Tatiana Grigorieva, were the kindling that lit the bonfire. There was blatant bravado in their performances, the same spirit that has made the women's vault such a high-demand event in recent years.
"The pole vault has always been the dare-devil sport of track and field," says Decathlete record holder Dan O'Brien. "It takes guts and gives 'no fear' a new definition."
At the summer Olympics, women held nothing back. In the end, Dragila vaulted 15 feet 1 inch to Grigorieva's 14-11. But the Gold was not Dragila's until after Grigorieva passed on trying to match her, and attempted to vault 15-3. This would have topped the world record of 15-2 1/4 Dragila had set in the U.S. Olympic Trials in Sacramento in July. Grigorieva went after the record twice, but failed each time, leaving Dragila the only woman to top 15 feet and receive the coveted Gold. It was glory and guts at its best.
Dragila, the best-known and most accomplished vaulter in the world, with world indoor and outdoor championships to back it up, began the sport with never a dream of Olympic recognition. Today, a whole new breed of female vaulter is raising the bar and she's backed by expert coaching and a solid weight training program to take her over the top.

Ninth Grader
Making Her Mark

Coach Sharon Zavala began to see the importance of weight training three years ago when Coach Scott Rezak signed on at her school as Strength Coach for the football team. A proponent of BFS programs, Coach Rezak immediately recruited support from all the school's coaches. After their first BFS clinic, things started to change for this small parochial high school located in Grand Island, about two hours from Omaha.
"Our football team is matching up physically a lot better now," says Coach Rezak. "We lost a lot of seniors, but this year we're holding our own and I credit it to the weight training."
Since implementing the program, the school's boy's team won the state powerlifting championships last year and the girls came in second place. Jenny Green won her 132-pound weight class, and her best lifts are 160 in the bench, 245 in the squat and 160 in the clean. But that is hardly the only reason to take a second look at this ninth grader. Jenny is a powerlifter out of curiosity, a pole vaulter at heart.
Two years ago, when she was 14, she won the Junior Olympics in the pole vault with a 10-6. Although a no-heighter last year cost her a second chance at the Junior Olympics, Jenny cleared 11-10 for the All-Class State Record. She plans on defending her title this year, with new determination.
"I was at home with my family watching the Olympics the night Stacy won," says Jenny, now 15 and in 10th grade. "I couldn't help but think about how cool it would be if that was me in four years. The timing is just about perfect for me, but I bet we're going to see the heights increase. My guess is women may be having to hit 16-6 or 17 to medal at the next summer games."

Guts and Glory

Jenny's interest was piqued by her older brother's experimentation with the vault. At the time Jenny was in 7th grade and asked her brother's coach if she could try it. "He said no," recalls Jenny, "but I just kept bugging him. He finally let me try and I loved it! It's exciting and a real challenge. Once in a while I get a little anxious but I don't have any fear about putting my all into it. My main goal this year is just to make 12 feet."
When Coach Rezak joined the school in Jenny's 8th year, her weight training program began in earnest. She began seeing the positive changes not just in the vault, but in volleyball, basketball and other track events as well. Jenny added powerlifting to her sports resume and still found the time to be on the student council, in the school's Spanish club and carry a 4.0 academic GPA--not bad for someone who won't see 16 years until next June!
"Our facility isn't that big," says Coach Zavala of the school's weight room. "But we don't need a big fancy facility. What's important is what the kids get done."
Coach Zavala and Coach Rezak work as a team in the weight room. "Scott has helped me a lot," says Sharon. "He's patient with me and we've designed a program specifically for the girls, plus some extra auxiliary lifts. It's year-round as well. They train three times a week during the school year and four times per week during the summer in June and July. It's my entire volleyball team and I'd say my attendance is 90 percent--not bad for summer. Of course, the end of the weight training coincides with my try-outs so there's extra incentive for the girls to do it."
So why is Coach Zavala so sold on the BFS program? "I've seen the gains and improvements. We jump very well, the girls are quicker and we have fewer injuries. We can play a two-hour match and ask who's sore the next day, and no one utters a groan. Three years ago that wasn't the case. Their bodies just don't wear down now."
Not surprising, Coach Zavala is now weight training two days a week herself!

A Senior Coming
On Strong

The changes in the sport are not just for the young girls growing up with the opportunity. It is there for female athletes of all ages who are ready for a new challenge and appreciate the opportunities and new acceptance of women in sports.
For Val Jalajas (pronounced like yell-at-us) a 22-year-old senior at Western Carolina University in Cullowhee, North Carolina, the vault came knocking at her door. A former child gymnast, Val was taking a tennis class from the track coach. The two began talking about form and biomechanics. Soon, Val was doing some flips for the tennis coach. He immediately recognized the similarities to the skills needed for vaulting and asked her to show his vaulters some gymnastics moves.
The vaulters watched Val; and she watched them. The next thing she knew she was in a meet, and won. She was hooked.
Strength Coach David Jolly took over from there. The first year he had to make some serious adaptations to training, teaching her the basic technical aspects of the sport. During the summer she worked on muscular endurance, doing a lot of bicycling in the Great Smoky Mountains. A stress fracture set them back a bit, but soon a program of the Bench, Military Presses, Squats, Push-Ups and handstand Push-Ups began to give Val the speed and strength she needed for the running. Tumbling and walking on her hands provided the kinesthetic awareness she needed for the plant.
Va
---

In the state powerlifting meet Jenny Green won her 132-pound weight class, and her best lifts are 160 in the bench, 245 in the squat and 160 in the clean.


Jenny is a powerlifter out of curiosity, a pole vaulter at heart. Two years ago, when she was 14, she won the Junior Olympics in the pole vault with a 10-6.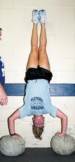 Val doing upside down medicine ball push-ups for strength & balance.


Val, who started out as a gymnast-turned pole vaulter, learned the necessity of weight training.

For Val Jalajas a 22-year-old senior at Western Carolina University in Cullowhee, North Carolina, the vault came knocking at her door.