BROCK OLIVO
"If this guy isn't the most dedicated football player in America, Missouri followers would like to see the guy who is."

By Dr. Greg Shepard
Published: Winter 1997
---
"If this guy isn't the
most dedicated football player in America, Missouri followers would like to see the guy who is."

The quote above is the opening statement about Brock Olivo in the Missouri Football Media Guide. Intrigued, I couldn't wait to meet the 6-1" 214-pound senior tailback. When I arrived in Columbia, which is halfway between Kansas City and St. Louis, I met with Strength Coach Dave Toub, and he couldn't wait to tell me about Brock.
Coach Toub began his strength coaching career at the University of Texas, El Paso in 1986 and then moved to Missouri with head coach, Larry Smith. He rates Brock Olivo as the most dedicated and hardest working athlete that he's ever seen. Brock has a habit of pushing himself to the limit and he enjoys every minute of any grueling workout. Coach Smith states, "I've never seen Brock have a bad day — in a game or in practice — in three-plus years."
Brock ran for 2,536 yards and 39 touchdowns in 1993 as St. Francis Borgia won the Missouri 3A state championship. Five of his touchdowns were kick-off returns. He scored 70 career touchdowns and had 5,000 career yards rushing. Brock was named Player-of-the-Year in Missouri by USA Today.
Brock's father, David Olivo, is a teacher and head football coach at Marquette High School (5A) in Western St. Louis County. When Brock was in the 7th grade, other kids seemed to be passing him up in sprinting. "My dad told me to run up the hill by our house" remembered Brock. "I ran it five times at first and then I got hooked." Brock ran the hill at least five times twice per week after that until he went to Missouri.
As a true freshman, Brock had an immediate impact. He was named Offensive Player-of-the-Game three times, rushed for 641 touchdowns and five touchdowns. He was named the Big Eight Offensive Freshman of the Year. Perhaps even better than that was his 3.5 grade-point-average in his first semester at Missou.
The next year Brock improved to 995 yards. It was the most yards rushing by a Missouri back since 1985 and was honorable mention all-Big Eight and Missouri's Offensive MVP. Last season was another honorable mention all-Big Eight year which saw the Missou Tigers have their best season since 1987. The difference last year was that Brock played on all of MV's special teams. Heck, he would play defense too if they would let him. This year he has already broken the Missouri record for Most Career Carries, Most Rushing Yards and Most All-Purpose Running Yards.
Brock is a great example everywhere he goes and that includes the classroom. He is on line to graduate with an English major. We (BFS) have three rules for getting great grades and Brock obeys all of them. I asked him if he ever misses a class or was ever late. Brock laughed, "No, not in a long time." Brock is also on time with his assignments and turns in quality work. "All my papers are five plus pages complete with the proper footnotes. I take pride in turning in quality assignments." Brock stated.
Brock Benches 420, Power Cleans 385, Push Presses over 400 pounds, does the I-test in 3.97 seconds. However, when you first see him, you can't help but be amazed at his chiseled, muscular frame. Brock has an unbelievable 5% body fat composition. His strength and muscularity leads some to ask about steroids. "I'm offended," Brock said intensely. "It's like a cop out. People take it as a shortcut. I workout so hard for what I get. So, I get offended if people think that I didn't do it on my own."
Brock has received the highest leadership awards among all students at the University of Missouri. The following gives you an idea of Brock's character. When I asked him about alcohol and drug abuse. "I've seen a lot of people lose track of their goals because of alcohol. I've seen people and friends get 30 on their ACT but never go to college or drop out.
"As a 9th grader, I gave in to peer pressure and got into trouble because of alcohol. My dad talked to me about my goals. I really thank my dad. He never pushed me but gave me all the help in the world. So I never took another drink in high school after that.
"When I got to Missouri, I made it a point to let everyone know that I wasn't a drinking guy. Family, education, God and work ethic are what is important."
Coach Toub talks about Brock's work ethic in a challenge that he accepted. "Everybody thought it was impossible. We have this awesome hill nearby. The challenge was to run up to the top and back down twenty times in twenty minutes. Brock had it all planned out and he met the challenge with two minutes to spare."
Brock thinks highly of his strength coaches. "I give them all the credit in the world. My strength coaches have really helped me and our team prepare for football."
Brock's motto is "Dream Big." His dad told him that he would have to work harder than everyone because he wasn't blessed like others. "I believe you should take advantage of every opportunity. I love the Latin phrase "Carpe Diem" which means "Seize the Day." That's what I want to do everyday now and in the future.
"After my playing days are over, I want to be involved in football. I want to give back what I've been given to the kids of the future."
I understood after my interview with Brock what the media guide said about him being the most dedicated athlete in America. Brock is a true eleven — a true Upper Limit athlete. We thank him for being such a great example!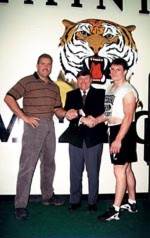 Head Tiger Strength Coach Dave Toub and Brock with Greg Shepard in the middle.4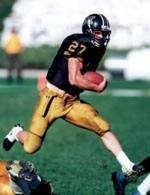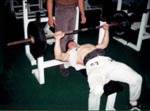 Brock, 6-2 214 lbs., Benches 420 lbs. which is, incredibly, almost twice his body weight! He also Power Cleans 320 lbs.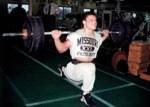 Coach Shepard states, "Brock's form on this Lunge is the best I've ever seen." Eyes straight ahead, chest spread, body completely upright, long and deep stride, toes straight. PERFECT!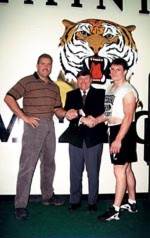 Head Tiger Strength Coach Dave Toub and Brock with Greg Shepard in the middle.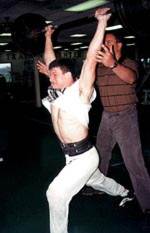 Brock can Push or Jerk Press over 400 lbs. Notice his chiseled, 5 percent body fat frame.