Jim Druckenmiller
A Blue Chipper at Last

By Dr. Greg Shepard
Published: Winter 1996
---
Mike Gentry, strength coach for the Virginia Tech Hokies, wrote me a letter about their quarterback Jim Druckenmiller. He said Jim could Hang Clean 405 and was their Super Iron Man Hokie. Before I could say, "I don't believe you," he called to say that he was sending me a video of Jim. I played the video over and over using the freeze frame and frame by frame analysis. Jim's form was great and I can tell you that Jim can Hang Clean 405 pounds!
The video also showed Jim competing throughout their Hokie Iron Man course. I was so impressed that I made copies and sent them to all of our BFS Clinicians. I suggested they show it to high school athletes to educate them on the meaning of intensity and commitment. Our BFS Staff loves Jim Druckenmiller. He is our pick for first team All-American.
Trouble is…..Jim will not be a first team All-American. The media likes three of four other guys. They have great stats to be sure, but Jim can do one thing extremely well. He can lead his team to victory. Jim led the Hokies last season to a Sugar Bowl victory and a BIG EAST championship by winning the last 10 games of the season. At one point this season, Virginia Tech had the longest winning streak in Division I football.
In spite of quarterbacking Virginia Tech to their best season ever last year, Jim was only the second-team BIG EAST quarterback. He threw for nine touchdowns and only three interceptions in BIG EAST games while throwing for 2103 yards in all games. This year his stats are comparable and Virginia Tech keeps on wining. After seeing the video and talking with Jim, I believe Jim is a blue-chip pro-prospect that will have a long NFL career. The man is 6'5" 225 and has a superman type body with a work ethic mentality that's off the scale. Whoever drafts Jim will get a leader who will show up every day and every game. They haul NFL quarterbacks off the field every week but you won't haul Jim Druckenmiller off the field.
Jim passed for 1,040 yards and 11 touchdowns his senior year at Northhampton High while completing 86 of 192 passes. He won even in high school. For example, in his last high school game, Jim threw a touchdown during the final 15 seconds to lead his team to a victory over Northhamton's biggest rival. He also played baseball and some basketball in his senior year but he was only 6'1", 180 pounds with a 4.9 forty time.
Jim received no post-season honors, not even honorable mention. He was not considered a blue-chip player. Jim lifted some in high school. He benched 250 and Squatted about 300 pounds. At this point, Jim made a wise decision by going to prep school at Fort Union Military Academy. This gave Jim a chance to mature and play football in 1990 without losing a year of college eligibility. It also helped prepare him better academically for college classes. Jim did well enough to catch the eye of the Virginia Tech coaches.
Jim entered school for the second semester of 1991 and went through winter workouts and spring practice. He was voted the offensive MVP of the 1992 Maroon-White spring game. However, the next football season (1992) Jim decided to red-shirt and the following two years played as the backup quarterback. During this time, he matured, learned and his bodyweight went up to 223. He Benched 320, Squatted 450, Hang Cleaned 371, Push Jerked 321, Vertical Jumped 34.5 and ran a 4.88 forty plus he won the Hokie Super Iron Man award just before last season. Jim Druckenmiller was a man that paid his dues and was ready to make his mark.
In his first collegiate start last season, Jim has 296 passing yards, the most ever for Tech quarterback making his first start. He twice shared BIG EAST Offensive Player of the Week honors. Head Coach Frank Beamer was the BIG EAST Coach for the Year, the VASID Virginia Sate Coach of the Year.
Virginia Tech has nearly 24,000 students and is nestled in the rolling hills of Southwest Virginia located in the town of Blacksburg. The University offers more than 75 fields of study and all 50 states and 90 countries are represented by the student-faculty population. Plans have been announced for a $7 million multipurpose athletic project which will include facilities for strength and conditioning for its 21 Intercollegiate sports. Coach Beamer explained, "Our goal is to continue to have a championship football program. In order to do that, we must also have championship-type facilities."
Jim believes it takes a lot of dedication and hard work to be successful. "I workout to get better everyday," Jim said. "There's no half-assin' in my book. You go full tilt. I achieved this level because of my work ethic and dedication. I like to work hard and give 110 percent in everything, whether it be football or academics. All of it is the same to me. I strive to become the best at everything. After sitting out for my first two years at Tech, I became frustrated and took aggression out in the weight room by working hard to get to this level. Going in the weight room each day and lifting was a natural activity to me."
Jim's lifts improved this year to a 350 Bench, a 500 Squat, a 405 Hang Clean and a 331 Push Jerk. He has never missed a workout and the only practice that he has ever missed was due to food poisoning last August when he lost 10 pounds. "I don't like missing things," said Jim. " I try to trun my assignments in early." This attention to detail has resulted in a 3.0 GPA as he works toward a Masters Degree in Counseling Education. Jim also has a relentless method of preparing for a football game. "It starts on Monday morning at 7 a.m., watching film. Each day, Monday through Friday, we have meetings at 2 p.m. After practice, usually for about 30 minutes, I sit down with the coaches and discuss game plans and watch film. Depending on how comfortable I feel about the opponent, I watch film on Wednesday nights from about midnight to 2 a.m. This gives me a chance to focus on the opponent without having distractions. Throughout the week, I use mental imagery to focus on how I would react to an unusual situation or make the big ply to win the game. I am a player who likes to practice and be prepared for each game. Game day is no different from any other day during the week. I just think of it as another practice."
Jim believes that negatives like drugs and alcohol is stuff that gets in your way. "It holds you back. I advise people to be their own person. You are responsible for yourself. If you listen to other people on negatives, you won't go far."
The weightroom is a place where Jim develops and demonstrates leadership. He states, "A quarterback needs to be in the weightroom more that anyone else. Everybody says it is freaky for a quarterback to be in the weightroom like I am but I know every opponent wants to beat me up. I have to thank Mike Gentry. He is the number one strength coach in the country. Wherever I go I would want Coach Gentry to be there. He is the heart and soul or our program. Coach Gentry is almost a God in my book. Maybe I shouldn't say it like that, but I respect him at the highest level."
We at BFS thank both Mike Gentry and Jim Druckenmiller for this article. They are both Upper Limit people of the highest order.
Virginia Tech Strength Program
Under the direction of Mike Gentry, the strength and conditioning program has become a major part of the success of Virginia Tech Football, Resulting in three consecutive bowl appearances. "We have a team dedicated to training hard and striving for excellence," said Gentry, now in his 10th year. The younger student-athletes see the uppercleassmen's intensity and it makes everyone want to train to be one's best
"Our program is designed to help our players build overall strength and endurance, while helping them develop self-discipline and realize their potential. We have a comprehensive program utilizing strength/power train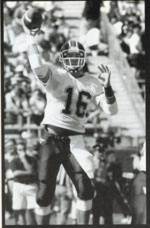 Jim Hang Cleans 405 lbs. Notice excellent chin, elbow, bar & feet position


Jim's rack position. Notice excelent lower back, chin, elbow, hip and feet positions,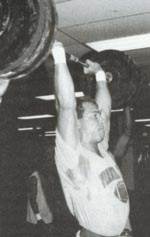 Jim Push Jerks 331 pounds!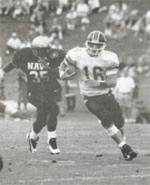 Jim breaking free against Navy


Jim's Benches 350 pounds. He holds every weightlifting record for a Tech QB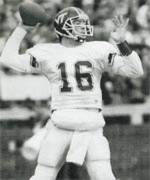 Jim Druckenmiller completed 51.4% of his passes in 95 for 2103 yards and 14 touchdowns.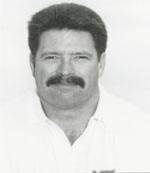 Mike Gentry, Virginia Tech Director of Strenght & Conditioning