Inside The Raiders With Strength Coach Tim Adams
A BFS Exclusive!

By Kim Goss
Published: Fall 2003
---
With a 42-year history and three Super Bowl titles, the Oakland Raiders are one of the most recognized and respected teams in the NFL. The team boasts the best winning percentage in pro football since 1963 and has produced numerous Hall of Fall inductees such as Jim Otto, George Blanda and Fred Biletnikoff. Under the direction of owner Al Davis and head coach Bill Callahan, the Raiders begin their season this year with another powerful squad that includes veteran superstar wide receivers Jerry Rice and Tim Brown. Also part of the Raiders team is Tim Adams, who achieved one of the most prestigious positions in the NFL this year when he became the Raidersí head strength coach.
A native of Lafayette, Indiana, Adams says his athletic aspirations can be traced to his father, who played football at Butler University and was a high school coach. An all-state running back in high school, Adams was recruited by the Air Force Academy in 1987 to play running back. Due to ACL knee injuries, he had to drop out of football but was able to pursue Olympic lifting and compete in the Collegiate National Championships. At that time he worked as an assistant strength coach alongside head strength coach Jack Braley and me at the Academy until graduation.
After graduating from the Academy and serving a short-term assignment at Wright-Patterson Air Force base in Ohio as a financial manager, Adams was able to return to the Academy as an assistant strength coach while completing masterís degrees in exercise science and business administration. When he retired from the Air Force in 1998, Adams built a private strength coaching business, working with both amateur and professional athletes. News eventually spread around the NFL of Adamsís talent for making football players bigger, faster, stronger and injury free, and this year Adams accepted Coach Callahanís offer to become the head strength coach of the Oakland Raiders.
Adams works out of the teamís state-of-the-art training facility in Alameda, California. In this exclusive BFS interview, Coach Adams discusses the challenges and rewards of being a head strength coach in the NFL.

BFS: How much did your degree in exercise science help you as a strength coach?
Adams: It gave me a great foundation in physiology, biochemistry, nutrition and biomechanics.

BFS: Where else did you learn about strength and conditioning?
Adams: My first influence was from you, obviously, and I thank you for connecting me with outstanding strength coaches such as Charles Poliquin. I also learned a great deal from weightlifting coach Dragomir Cioroslan and speed experts such as Randy Huntington, Dan Pfaff and Remi Korchemny, and from numerous coaches in Canada and Europe.

BFS: You were a captain when you left the Air Force, so you had a good salary and five years towards your retirement. Wasnít it a tough decision to give up that security?
Adams: What happened was that the Academy had just approved sponsoring me to get a PhD but then the Air Force told me they were going to pull me out of my assignment and send me to Los Angeles to buy missiles. In other words, the Air Force basically told me that not only could I not go on to get a higher degree but also that they were going to send me to do something I really didnít want to do. Thatís when I chose to get out and pursue coaching and my love for working with athletes.

BFS: With your education and experience, were you immediately successful in the private sector?
Adams: Noóit was very difficult. At first I did a lot of work with figure skaters at the Broadmoor Figure Skating Club in Colorado Springs, and then the opportunity to work with the Broncos came my way. The players saw that I did things a little differently, and several of them decided to ask to work individually with me in the following off-season. I ended up with five Broncos in the off-season, and through trades and one thing or another I eventually ended up working with players from all across the country.

BFS: How did you get the job with the Raiders?
Adams: A couple of my clients played for the Raiders, and when the strength coach for the Raiders left, the organization called and asked me if I would be interested in the job. I originally said no because I was in the process of opening up a facility in Denver, but I said Iíd be willing to talk to Coach Callahan. He called me the next day. I found him to be an incredible man, a visionary and a great thinker who is committed to what he is doing. By the end of our conversation I knew this was an opportunity I just couldnít turn down.

BFS: What were some of the changes you made when you first took the job with the Raiders?
Adams: One of the first things I tried to accomplish was to create an atmosphere of change. I wanted to let the players know there was a new guy in town and things were going to be different. So I revamped the weight room and brought in a lot of Olympic lifting platforms, power racks and free weights.

BFS: What is your weight training philosophy?
Adams: My sole purpose is to create an environment in the weight room and out on the field to foster an athleteís natural ability. If I can enhance it in any way, great; if I can prevent any injuries, great. The bottom line is to keep these guys as healthy as possible and get as much out of them as we can to get them to last through a long and demanding season.

BFS: Do the Raiders give cash incentives to their players for working out, or do they pretty much work out hard on their own anyway?
Adams: We donít construct our contracts in such a manner that they get incentives. They do get a per diem for being in the program, but itís insignificant compared to what they normally make.

BFS: Do you do any special testing on your players?
Adams: Yes and no. I do an assessment on all the players, but itís very visual and is accomplished by watching them move and do things. There are a few individuals who have certain issues, and Iíll actually assess them on a table, but from a testing perspective itís not like I run 40s with them. There are certain lifts that I want to know how much they can do, but nothing other than that.

BFS: Is the NFL combine a valuable tool for pro coaches?
Adams: I personally am not a big fan of the combineóI think itís an archaic test. The one thing the combine does have is a history, and it can tell us if a college kid can run. If an athlete can run, then there is hope that heíll eventually be a great player. The only time we test the 40 is when we bring in a free agent, but other than that itís all about game speed and the play on the field.

BFS: What are the most common injuries youíre seeing with football?
Adams: Itís hard to put a number on what would be the most prominent injuries. We see concussions and a lot of soft tissue injuries, but there isnít a part of the body that is exempt from being injured in football. Itís a total contact sport.

BFS: Do the pro athletes you work with eat well?
Adams: You would think so, but in actuality thatís not necessarily the case.

BFS: What is your philosophy about nutritional supplements?
Adams: I come from the perspective that athletes need to eat well before they even think about supplementation. We do provide some supplements to our athletes, but the NFL has created some very strict and stringent guidelines on what can and cannot be taken. Weíve really taken a step back from a supplementation perspective because the last thing we want to do is recommend something that might flag in a test as a banned substance. We have to be very cautious to be sure that the supplement companies we recommend do not produce any products in their line that has anything with ephedrine or with any androgenic or anabolic substances. That limits the number of companies to a very, very small number.

BFS: When was the last time you worked 40 hou
Front Cover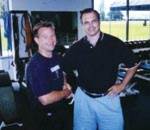 Tim Adams with BFS Editor Kim Goss at the Raiders' facility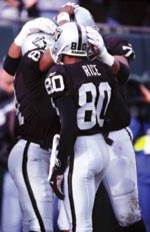 Rice holds 13 NFL records, has been named NFL Player of The Year twice (Ď87, Ď90), was NFL Offensive Player of the Year in 1993 and has 13 Pro Bowl invitations. He begins the 2003 season with 22,242 total yards from scrimmage after passing Hall of Famer Walter Payton as the sole leader in total yards from scrimmage.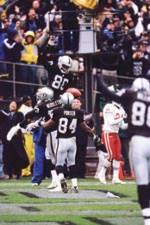 Some of Riceís 13 NFL records include: Career records in receptions (1,456), receiving yards (21,597), total touchdowns (203), receiving touchdowns (192), most receiving yards in a single season (1,848), and owns 10 Super Bowl records. Born in Crawford, Mississippi. All-Conference performer in football at Moor High School in his hometown. Also played guard on basketball team and lettered in track as sprinter and member of relay team.


Prior to Adam's arrival, the Raiders' weight room contained a variety of


Another view of the old weight room and the large variety of weight training machines used by the athletes.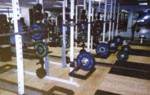 The new weight room offered an abundance of power racks that could be used for many functional exercises such as squats.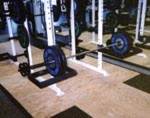 Each power rack was mounted on large wood platforms so that athletes could perform power cleans safely.